Main Content
About Flora Corner Farm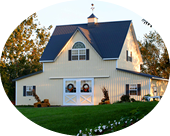 Flora Corner Farm is located in southern Maryland about one and a half hours from Washington D.C., Annapolis and Virginia.
Flora Corner Farm is a working farm that has been handed down from generation to generation. Once used to grow tobacco, now soybeans, corn, and sunflowers fill the fields. Our tranquil farm setting provides the perfect backdrop for country weddings or parties – whether your style is best expressed by an enchanting barn wedding or an intimate garden ceremony surrounded by patchwork fields.
FCF is particulary appropriate for small events. However, we can accommodate larger events, up to 130 guests on our extensive lawn under beautiful tents.
Wedding Ceremony and Reception Packages
We have a wedding ceremony package and two (2) wedding reception packages. You can view them by clicking on the individual package below. We also offer an Ala Carte Menu to help you plan your special day.
Connect with Us on Facebook
Let's give a warm welcome to Heather! While she has only been a part of the Flora Corner Farm team since 2015, Heather has ALWAYS had a passion for planning events. After attending a wedding on the grounds she fell in love with us--and the feeling was mutual!

We are excited to officially have her on board as our Senior Wedding Coordinator! Wish her luck as she takes on the 2018 Wedding Season and beyond! ... See MoreSee Less
Good luck with the new job. They are very lucky to have you!!!!!
Are you ready to crack the whip?
Excellent! Great job Heather. you couldn't pick a better place to work, its absolutely beautiful there
Congratulations on having such a wonderful, kind and caring individual to work with your clients. Good job Heather!
We are so fortunate to have Heather join our team! She is a wonderful addition and will help our couple see there vision for their special day come to life! Her calming presence will soothe even the most anxious bride. She does not hesitate to address any concerns. We can't wait for you to meet her and to work with her!!
Awesome! So proud of you, Heather! 💜 💜
Congratulations 🍾🎈Heather. Don't listen to Amanda, I'm not that bad ! Lol
Heather Do I see you about a raise in pay?
Can't wait to meet her this weekend! 🙂
Wonderful news, Heather's talent, passion, creativity and commitment mean great things are ahead! Congratulations!
Heather is one of the sweetest women you'll ever meet. Congratulations.
Diane and I could not have asked for a better person to be brought onto our team! Heather--Your experiences and insights are going to bring Flora to the next level. The couples getting married here and all of our vendor friends are in such good hands with you <3
Congratulations, i went there once to do hair for a wedding and got to attend it too.. the MOST PERFECT wedding place ever, i fell in love with it too !!
Heather is smart, engaging, creative, organized and lovely in every way. Congratulations!
Yay Heather! Love this venue! Can't wait to work there again! You can see the signs I use to communicate with my hubby while we are shooting. I knew our degrees would come in handy one day!
I have a feeling all my friends will work here eventually! 😂 Aloha Amanda & hey-o Heather!
Strong work Heather Magoon Zeolla
Congratulations Heather!!!
Congratulations, Heather! Sounds like fun!
Congrats Heather Magoon Zeolla!!!
So happy for you Heather Magoon Zeolla!