Main Content
About Flora Corner Farm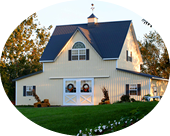 Flora Corner Farm is located in southern Maryland about one and a half hours from Washington D.C., Annapolis and Virginia.
Flora Corner Farm is a working farm that has been handed down from generation to generation. Once used to grow tobacco, now soybeans, corn, and sunflowers fill the fields. Our tranquil farm setting provides the perfect backdrop for country weddings or parties – whether your style is best expressed by an enchanting barn wedding or an intimate garden ceremony surrounded by patchwork fields.
Flora Corner Farm is particularly appropriate for small events. However, we can accommodate larger events, up to 130 guests on our extensive lawn under beautiful tents.
Wedding Ceremony and Reception Packages
We have a wedding ceremony package and a wedding reception packages. You can view them by clicking on the individual package below. Additional services are also available through our Ala Carte Menu to help with wedding plans.